New Release
Surrender to Me (BDSM Connections Book 2) by Claire Thompson #BdSM #Standalone
Let the erotic pain lift you into its arms. Surrender to it. Surrender to me.
Rylee Miller, independent, strong and in control, seeks intensity of experience in all things. She craves hardcore sadomasochism and believes erotic suffering is just another challenge to be overcome.
Taggart Fitzgerald, aka Leather Master, is a world-class whip and leather-gear craftsman. A highly skilled and sexy Dom, he's also a brooding, intense and self-contained man. He takes what he wants from women, keeping his heart firmly out of the equation.
When they meet on a video shoot for BDSMConnections, their intense, visceral connection stuns them both. The Leather Master is intrigued by Rylee's staunch assertion she's not a submissive. Is she lying to him—or just to herself? Or maybe she has never learned to truly surrender.
With Taggart's dominant, sadistic side and Rylee's sensual, masochist mindset, they should be the perfect pair. But accepting her true nature may not be easy when the Dom she's falling for is a man so damaged by a past filled with pain that he's unable to trust in love. Or maybe it's that he has never learned to surrender to his heart.
Amazon US
♦
Amazon UK
---
99ct Deals
regular price: 9.99
The Mercy Trilogy (Mercy #1-3) by Lucian Bane #Dark #Bundle
It started as a project to continue the charitable works of her deceased father. But when Mercy finds the man she believes her dad intended to help, it turns into a game of pain, lust, and danger.
The second Sade meets Mercy the do-gooder, his desires get busy plotting to condition her for his sadomasochistic appetites.
Everything goes according to his plans until he finds himself tied up and at the mercy of this woman who is nothing like the victim he'd mistaken her for.
Amazon US
♦
Amazon UK
regular price: 3.99
Jagger (Caldwell Brothers #3) by M.J. Fields + Chelsea Camaron #NewAdult #Abuse
Full of swagger and sensuality, the Caldwell Brothers series—perfect for fans of Katy Evans and Emma Chase—packs an emotional punch as the last bachelor standing fights for a woman who's worth every ounce of trouble.
Jagger Caldwell is no one's hero. With a reputation busting heads and breaking hearts on the underground MMA circuit, he lives for easy cash and easier women. But when he stumbles upon an all-too-familiar scene, painful memories awaken Jagger's sensitive side and compel him to act. As a kid, he stood by helplessly as his old man beat his mom. Now, Jagger won't let seventeen-year-old Tatiana Rand suffer the same fate. Nothing matters except saving her.
Tatiana is a prisoner in her own home, at the mercy of her violent father—until an unlikely savior bursts through her door and into her life. Six-feet-plus of tattooed muscle and raw power, Jagger is no prince charming—but Tatiana stopped believing in fairy tales long ago. Despite their differences in age and, well, everything else, the sexy bad boy sparks a fire that Tatiana never knew she had—and desires that only Jagger can quench.
Amazon US
♦
Amazon UK
regular price: 3.99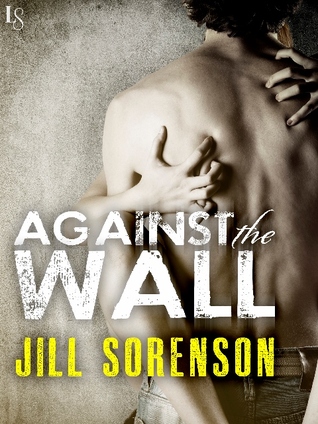 Against the Wall by Jill Sorenson #NewAdult #Crime #Abuse
Eric Hernandez is the bad boy of every schoolgirl's fantasies—and every mother's nightmares. But after serving time for manslaughter, he's ready to turn his life around. He just needs a chance to prove himself as a professional tattoo artist. The one thing that keeps him going is the memory of the innocent beauty he loved and left behind.
Meghan Young's world isn't as perfect as it looks. The preacher's daughter is living a lie, especially now that Eric is back. Tougher, harder, and sexier than ever, he might be the only person she can trust. But there's no telling what he'll do to protect her if he learns the truth, and that's a risk Meghan won't let him take. And yet, back in the arms of the troubled boy with the artist's soul, Meghan can't help surrendering to the man he's become.
Amazon US
♦
Amazon UK
---
Freebies
Blood to Dust by L.J. Shen #Abuse #Dark
His name is Beat, and I should hate him.
Bound, blindfolded and bruised, I'm tied in his basement, waiting for the men who stripped me from clothes and humanity to collect his debt to them. Me.
His name is Nate and I should hate him, but I don't.
I'm not supposed to know his real name, even worse, I'm not supposed to care. He is nothing to me but means to an end. The plan is simple: break free, collect the pieces of my broken soul, kill the bastards and run away.
His name is Nathaniel Thomas Vela, and I've never seen his face, though I hear that it's beautiful.
Behind the rugged and handsome exterior, there's a quiet murderer, a killer who thinks guns are for pussies and ends people with his bare hands.
His name doesn't matter, neither does his face, but what does matter is my heart. And right now, sadly, it's his.
Amazon US
♦
Amazon UK
Russian Tattoos: Prisoner (Russian Tattoos #2) by Kat Shehat #Dark #Crime
American tennis player Carter Cook is being held prisoner by the Russian mafia...
Carter is the obsession of mob boss Vladimir Ivanov, a man she once loved. Now a mafia war has erupted on his home turf, and Vladimir's enemies have put a bounty on her head to force him to surrender. If she is captured, his rivals will deliver a deadly ultimatum—his life in exchange for hers. The price for Carter's freedom is Vladimir's blood.
Vladimir holds ultimate power as godfather of the Ivanov Bratva…
He spent five years in a Siberian prison camp and has earned every tattoo inked into his skin. He is a powerful man who rules his crew with an iron fist.
But his enemies have discovered his only weakness—Carter. Vladimir knows if she stays in his world, he is handing her a death sentence, so he vows to get her home and never interfere in her life again. Giving up the woman he loves is the only way to protect her from the bad guys—including himself.
Vladimir's rivals have a different plan for the ill-fated couple…
Some punishments are worse than death, and the head of the Ovechkin Bratva will go to any length to seek vengeance and inflict maximum suffering on Vladimir.
Carter may be Vladimir's weakness, but she is also his only hope for survival. When the boss of the Ovechkin family threatens the man she loves, she must fight for Vladimir's freedom before their rivals can deliver the fatal blow.
Love is blind—but it could also be deadly.
Amazon US
♦
Amazon UK
His Cemetery Doll by Brantwijn Serrah #Paranormal #Horror
She haunts his sweetest dreams...and darkest nightmares.
Conall Mackay never put stock in ghost stories. Not even after thirteen years serving as the cemetery keeper in the village of Whitetail Knoll. Things change. Now, his daughter is seeing a figure among the tombstones. The angelic sculpture standing guard seems to be always watching him. Dark fog and gray ribbons creep up in the night, and a voiceless beauty beckons Con from the darkest corners of the graves.
When the world he knows starts to unravel, Conall might finally be forced to believe.
Amazon US
♦
Amazon UK