New Release
My Sister's Husband by Cara Chance #Taboo
Dante Garcia is sexy, hot, and totally lickable.
His dark hair, sexy body and gorgeous eyes make it impossible to stay away from him.
But, I have to.
I can't even think about him.
Not even late at night when I'm alone.
Because he's married to my sister, and this family get-together just became a nightmare for me.
How am I supposed to even be in the same room with him?
For me, this summer trip is going to suck, much like I wish Dante would suck on me.
Amazon US
♦
Amazon UK

99ct Deals
regular price: 6.99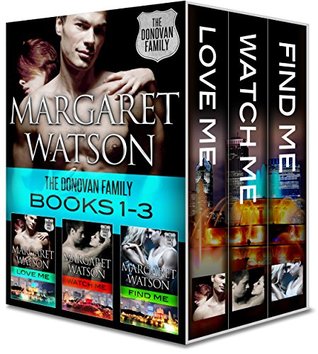 The Donovan Family Bundle (Love Me, Watch Me, Find Me) by Margaret Watson #Suspense #Standalone
The first three books in the romantic suspense series that readers call "impossible to put down."
This boxed set includes the first THREE books in the popular Donovan Family series. It's over 600 pages of riveting suspense, unexpected twists and deep family bonds.
Love Me (Book 1)
Watch Me (Book 2)
Find Me (Book 3)
Amazon US
♦
Amazon UK
regular price: 4.99
Uncivilized (Uncivilized #1) by Sawyer Bennett #BdSM
Savage man, loner, warrior… I am dangerous at my core. I have lived amidst the untamed wild of the rainforest, in a society that reveres me and where every woman falls before me in subjugation.
Now I've been discovered. Forced to return to a world that I have forgotten about and to a culture that is only vaguely familiar to my senses.
Dr. Moira Reed is an anthropologist who has been hired to help me transition back into modern society. It's her job to smooth away my rough edges… to teach me how to navigate properly through this new life of mine. She wants to tame me.
She'll never win.
I am wild, free and raw, and the only thing I want from the beautiful Moira Reed is to fuck her into submission.
She wants it, I am certain.
I will give it to her soon.
Yes, very soon, I will become the teacher and she will become my student. And when I am finished showing her body pleasure like no other, she'll know what it feels like to be claimed by an uncivilized man.
Amazon US
♦
Amazon UK
regular price: 3.99
Seven Years (Seven #1) by Dannika Dark #Paranormal #Shifters
Seven years ago, my world ended.
Seven years later, my new life began.
It's been seven years since Lexi Knight lost her brother in a tragic accident. On the anniversary of his death, her brother's best friend shows up unexpectedly - a man she hasn't seen since the funeral. He is no longer the boy Lexi once knew, but a dangerous-looking man with tattoos and dark secrets. He broke her trust and abandoned her family, yet what he reveals makes it impossible to stay angry. Lexi has been secretly infatuated with Austin since childhood, so finding out he's a Shifter just makes him sexier. Dammit.
Austin Cole has returned to the city where he grew up, and just in time. He's lived a hard life these past seven years, and the shadows of his past are threatening to destroy Lexi's family. It's time that she learned the truth about her brother, but there is a shocking twist that Austin never saw coming. Now he must protect her family when her mother and sister wind up in mortal danger. Will Lexi learn to accept the truth about who he is, and can Austin salvage a relationship from the ruins of their past?
Destiny will find you.
Amazon US
♦
Amazon UK
Freebies
Fever (Blood Moon Rising #1) by Lola Taylor #Shifters #Novella
When the Blood Moon rises, the wolves come out to play… and find their mates.
Danica has about given up on love. In a last-ditch attempt at finding "the one," she agrees to a blind date through an online dating service. But instead of finding roses and romance, she finds someone intent on killing her. That is, until the mysterious, brooding Gage shows up to save her….
Gage is running out of time to find a mate. If the Blood Moon sets before he can find her, he'll lose the rank of packmaster - and the peace within the pack - he's worked so hard to obtain. When he saves a luscious blonde in the parking lot, he has no idea she is his mate - until he Marks her with his touch.
Determined to keep her safe at any cost, Gage whisks Danica away into a hidden world full of lust, unlikely love, and treachery. Someone's put a hit on his mate, and he's hell-bent on finding out who, all while the Blood Moon looms closer, threatening to destroy his chances at true love forever. That is, if something - or someone - doesn't kill the woman he's falling for first.
Amazon US
♦
Amazon UK
Sweet Submission (Submission #1) by Roxy Sloane #BdSM #Novella
Most women don't know the pleasure of total surrender.
You've fantasized about it. Maybe you've even tried. Asked for his hands to grip you a little tighter. If he could tie you up. Hold you down. But he always stops too soon.
He doesn't mean it when he makes you beg for him, doesn't push you to the limits of your pleasure and demand everything you have to give--and more.
You wonder, what would it be like with a man who truly commanded you? How sweet would the release be, giving yourself up completely?
No limits.
No boundaries.
His control.
Amazon US
♦
Amazon UK
The Vampire's Pet (The Vampire's Pet #1-6) by V.R. Cumming #Menage #MM #Dark
Eric Logan is twenty-one, a physics major at the Georgia Institute of Technology in Atlanta, and a geek. All he wants is to make it through college in one piece. If he can find a woman to share his life with, well, all the better, but he doesn't hold out much hope of that happening. He's learned the hard way that women find shy, safe men too boring to keep around for long.
While attending a party with his friend Devin, Eric meets the vampire Elizabet, who offers him a spot in her stable of blood slaves. Not long after, the lovely Gianna Brady walks into his life. With her in his heart and a job as a vampire's pet, Eric finally has the life and love he's always wanted and is eager to begin his journey through the hidden society he's now a part of, a society where blood and sex are used to cement alliances and control the violent nature of the beast within.
Amazon US
♦
Amazon UK