New Release
The Emerald Triangle: A Forbidden Priest Romance by Layla Wolfe #Taboo
There is a magic about the forbidden that makes it utterly desirable.
Father Truman Burgess: I broke my rules for her.
Brought together again after ten years when a suspicious death has gossiping tongues wagging all across town, I don't want to believe what they're saying about Simone Wharton. She was mine ten years ago and I crave her again now. My adulterous desire would topple me again from my throne. I've barely survived one scandal. Can the citizens of Cinnabar forgive another one?
Simone: Truman has matured into a fine, mysterious, devoted man. Unfortunately, he is eminently fuckable. The white collar he wears is a continuous reminder how out of my reach he is. I want to scream from the rooftops that he's my man! But does he only belong to God?
He broke his rules for me. It's the most delicious, sensual thing to ever happen to me.
Amazon US
♦
Amazon UK
---
99ct deals
regular price: 7.99
Ice Cold (T-FLAC #15) by Cherry Adair #Suspense
T-FLAC operative Rafael Navarro will never allow another woman to suffer the consequences of his dangerous life. But in a world where a terrorist can do more damage with a keyboard than a bomb, he needs the expert help of a cyber-geek. And fast.
Fellow operative, and cybercrimes specialist Honey Winston prefers computers to people. But when a serial bomber threatens the world's financial infrastructure, she's forced to work closely with Navarro, whose notorious skill in the bedroom is as legendary as his dexterity defusing bombs.
Honey and Rafael must fight sparks hot enough to melt their resolve, and push beyond fear itself, as they join forces in a bid to race the clock before a sinister and lethal bomber proves just how much they both have to lose.
T-FLAC is back, and the timer is counting down in the most pulse-pounding explosive op yet—
Amazon US
♦
Amazon UK
regular price: 5.00
The Other C-Word (In Other Words #1) by M.K. Schiller #Humor
Can she overcome her consuming desire for him? Can he make her comfortable with the other C-word…commitment?
Marley Mason is dreading the arrival of the new business consultant. After all, this man will most likely outsource her job to China. The last thing she would expect is a case of mistaken identity, leading to false accusations of kidnapping when she attempts to pick up the wrong man at the airport, or worse…that she would have such a visceral reaction to the right man.
Rick Randy is super sexy, scandalously flirty and perfect masturbation material, but a relationship is out of the question. Rick is contracted on a temporary basis to fix Marley's ailing company, then pull out, although as he expresses to Marley, pulling out is difficult for him, in more ways than one! Marley's feelings range from utter confusion to intense contemplation as Rick charms his way into her life. All of those C-words Marley can control, but it's the other C-word she fears—commitment.
Amazon US
♦
Amazon UK
regular price: 2.99
Prisoned: A Dark Twisted Erotic Standalone by Marni Mann #Dark #Abuse
When I opened my eyes, I was in a cell, my body covered in bruises.
Not a jail.
I'd been kidnapped and imprisoned.
I wasn't alone. I shared the cell with Garin Woods, the man I'd loved since I was a kid.
The man I couldn't be with because of the secret. A man who would kill me if he found out what that secret was.
Someone wanted to torture me.
Torture us.
One of us deserved it.
It wasn't Garin.
Amazon US
♦
Amazon UK
---
Freebies
Jaded, Full Series (Jaded #1-3) by Ali Parker #NewAdult #Bundle
As a photographer for the New York Post, Kari Martin was used to seeing heartache and scandal up close. But one night at the club… her whole world changed.
Heartbroken and willing to call off her wedding, she decides a change is in order and moves from NYC to a small town in Maine, where the average age of the residents there is sixty (or thereabouts). She works to fit in perfectly, and tries like hell not to let anyone find out just how very jaded she's recently become over the lie called love.
Jake Isaac left Texas quite a few years ago; his heart torn from his chest, and his mind set on being a bachelor forever. Maine would welcome him, give him land to explore and a community to belong to. Getting a job as the coach of the local junior high and serving on the fire department kept him busy — and labeled him a hometown hero — but the truth of his damaged heart was forever hidden.
No one would ever know just how jaded he was about love. That is… until he meets Kari.
Amazon US
♦
Amazon UK
Random Acts of Crazy (Random #1) by Julia Kent #Menage #Humor #Standalone
I never intended to pick up a naked hitchhiker wearing nothing but a guitar. A guitar. Really. I don't collect guys like that (don't ask what kind of guys I do collect), but when you spot a blonde, tanned, sculpted man with a gorgeous smile and his thumb poking up and practically begging you to stop – you stop.
And I definitely never thought I'd be staring into the bright blue eyes of Trevor Connor, the lead singer for Random Acts of Crazy, an indie rock star I followed like the slobbering fileshare fangirl I am. How he came to be nude and lost six hundred miles from home is quite the tale, but how we fell in love is even more unreal.
Because someone like Trevor Connor, headed to Harvard Law next year, isn't supposed to want someone like me, a rural Ohio chick majoring in Boredom at Convenience Store University who is all curves and frizzy blonde hair and manners so unpolished they have sharp edges that make you bleed.
But he did.
When his best friend, Joe Ross, the bass player for Random Acts of Crazy and a man who makes Calvin Klein models look like Shrek, drove eleven hours through the night to rescue him, though, it got real complicated. It's one thing to like two different guys and be torn.
What do you do, though, when maybe – just maybe – you don't have to choose?
As my Aunt Josie says sometimes, "It's always complicated."
Amazon US
♦
Amazon UK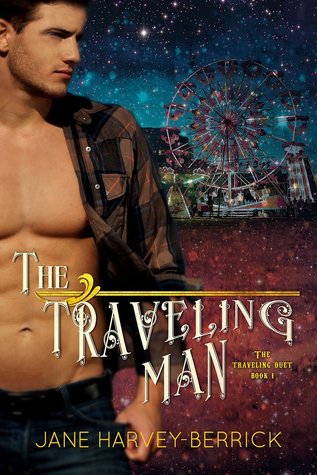 The Traveling Man (Traveling #1) by Jane Harvey-Berric #NewAdult
"I was ordinary. Nice. He was extraordinary. And he wasn't always nice.
Moody and difficult, brilliant and beautiful, Kes scared me and he protected me. He could be incredibly hurtful and incredibly thoughtful. He wasn't perfect, but he was perfect for me. He challenged me, he took me out of my safe little box and showed me the world could be magnificent. He was everything I wasn't."
Aimee Anderson is ten when the traveling carnival first comes to her nice little town. She doesn't expect her world to change so completely. But meeting Kestrel Donohue puts her life on a different path.
Even though she only sees him for the two weeks of the year when he passes through her home town, his friendship is the most important of her life. As a child's friendship grows to adult love, the choices become harder, and both Kes and Aimee realize that two weeks a year will never be enough.
Amazon US
♦
Amazon UK