New Release
ROUGH (Filthy F*ckers MC #2) by Scott Hildreth #Dark #Standalone
Hot.
Sweaty.
In need of relief.
That's how I felt the day I met Brad Pee-Bee Carson. Stuck in a six-mile-long traffic jam in my junk car, I opened my door to get a little relief from the sweltering southern California heat.
Big fucking mistake.
Before I knew it, Pee-Bee, the biggest Filthy Fucker in So-Cal's Outlaw Motorcycle Club, was splitting traffic, and headed right at me. With no time for me to react, he slammed into my open car door, ruined his precious motorcycle, and sealed my fate forever.
Desperate to pay him back for the damages, and avoid pissing off the entire Filthy Fuckers MC, I accepted a great paying job.
There was only one problem. And it was a BIG one. I would be caring for the only man Pee-Bee answered to…
His father.
This is our story.
Life.
Laughter.
Love.
Loyalty.
And all the rough and beautiful moments in between.
Amazon US
♦
Amazon UK
99ct Deals
regular price: 7.99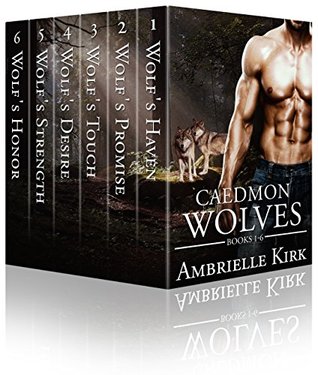 Caedmon Wolves ~ A Wolf Shifter Paranormal Romance 6-Book Collection by Ambrielle Kirk & Amber Ella Monroe
#Paranormal #Bundle
With the fate of the Caedmon Pack hanging in the balance, their leaders devise a strategy for peace and prolonged existence. One Alpha leads the pack to overcome grief and hopelessness during a time of chaos. His enemies make attempts to tear down the unity holding the pack together. Rivals infiltrate their territories and threaten to claim possession at the first sign of weakness. Many lives are destroyed in the quest for dominance and peace. The rules must evolve to fit their ever-changing society before deception, jealousy, and hatred ruin the Caedmon Pack.
This collection focuses on the Caedmon Pack Council members as they face tough choices between loyalty and true love. 6 Sexy Alpha Males and 6 Happily-Ever-Afters included.
Author's Note: These are full-length paranormal romance stories of the 1st six books in the Caedmon Wolves series.
The following titles are included:
Wolf's Haven
Wolf's Promise
Wolf's Touch
Wolf's Desire
Wolf's Strength
Wolf's Honor
Amazon US
♦
Amazon UK
regular price: 3.99
Broken Play (Birmingham Rebels #1) by Samantha Kane
#Menage
Birmingham Rebels offensive linemen Beau Perez and Cass Zielinski are inseparable, on and off the field. Cass, the captain with the cowboy swagger, is a loose cannon. Beau, the veteran tight end, is cool under pressure. And ever since they were caught on tape in a steamy threesome, their exploits have fueled more than a few tabloid headlines—and naughty fantasies.
Marian Treadwell knows all about the video. And now that she's the Rebels' new assistant offensive coach, she can't look at Beau and Cass without picturing their hard, naked bodies—with her pressed in between. Marian would like nothing more than to indulge those impulses, but she knows better than to get too close to her players, a bunch of adrenaline-fueled alpha males who don't always follow the rules.
Just the thought of sharing the gorgeous yet guarded Marian drives Cass wild. At first, Beau isn't sure she's right for them . . . and lately, all he desires is a little alone time with Cass to explore their new intimacy. But it's only a matter of time before Cass breaks through both of their defenses. Because when seduction is the game plan, he always plays to win.
Amazon US
♦
Amazon UK
regular price: 2.99
Shuffle (Ruby Riot #2) by Lisa Swallow
#NewAdult #Rockstar #Standalone
With Ruby Riot on a break, Will Campbell, Ruby Riot bassist, returns to university to finish his degree and fails badly at everything apart from partying. He needs major help if he wants to pass his final year and attempts to join a not-very-rock star study group. Will is horrified to discover the person organizing the group is Fleur Roberts, the girl he's secretly crushed on for two years and who recently threatened him with a restraining order.
Fleur's rock stars are history academics. She has no interest in any variety of pierced, tattooed slacker, especially not the jackass rock star who humiliated her at a party. There's no way in hell that Will Campbell is joining her group.
Faced with losing the easiest way to fix his academic problems, Will has the perfect solution: pretend he's his twin, Nate. Will and Nate have swapped identities before so nothing can go wrong. Surely.
Fleur is successful academically, but her love life is a failure. Following a number of disastrous dates, she finds herself falling in love with a guy who is lying to her. But Will's deceit isn't the only thing about to shatter her world. When another man Fleur trusted betrays her, and she attempts to retaliate, Fleur discovers how dangerous he is. And when Will becomes involved, the repercussions threaten both of their futures.
Amazon US
♦
Amazon UK

Freebies
Emerge (Evolve #1) by S.E. Hall
#NewAdult
"You never have to be without me, Laney, never."
He lied…my everything I ever knew, trusted, wanted…I am, in fact, without him.
On my own and out of my shell, I learn new things about life, friendship and…myself.
Like what you've always known may not be what you've always wanted.
Dane Kendrick awakened things within me that I never knew existed, unraveling and uncovering the real Laney Jo Walker.
I'm a NEW adult…so is my story.
Amazon US
♦
Amazon UK
Underneath It All (The Walshes #1) by Kate Canterbary
#NewAdult #Humor #Abuse
If I had known I'd have a hot architect balls deep inside of me before the end of the weekend, I'd have made time for a pedicure.
Lauren
It's all the little things—the action plans, the long-kept promises—that started falling apart when my life slipped into controlled chaos.
After I met Matthew Walsh.
I couldn't decide whether I wanted to run screaming or rip his pants off, and most days I wanted a little of both. If I was being honest with myself, it was rip his pants off, ride him like a workhorse, and then run screaming.
Matthew
A rebellious streak ran through Lauren Halsted. It was fierce and unrelentingly beautiful, and woven through too many good girl layers to count, and she wasn't letting anyone tell her what to do.
Unless, of course, she was naked.
She wasn't looking for me and I sure as shit wasn't looking for her, but we found each other anyway and now we were locked in a battle of wills, waiting for the other to blink.
Sometimes the universe conspires to bring people together. Other times, it throws people down a flight of stairs and leaves them in a bruised and bloodied heap.
Amazon US
♦
Amazon UK
Stolen Innocence (Becoming Elena #1) by Melody Anne
#Dark #BdSM
Every master was once a student – every woman was once a child …
What makes a person forget their entire identity? What makes them become someone else? What makes them desire pain … control … and ultimately pleasure? It's not anything that happens overnight, over even in a few weeks. Tragedy beyond what a human can possibly imagine will forever alter Mary's future.
Mary's life is boring, conservative and typical. She wants adventure, thrills and so much more. But she will soon learn to be careful what to wish for when she's taken against her will and thrust into the twisted world of a powerful man who doesn't care if she lives or dies.
When Mary starts becoming Elena, she does find a savior, but is he truly the person who will protect her, or will he be the one to escort her straight into the pits of hell?
Forgetting who she is or where she belongs, she learns she can trust no one, rely on only herself, and fall further than she ever thought possible. She will become someone else and the cycle will begin. She will become the person who will eventually change the life of so many others. Some might say the change is good, the violence is necessary. And some will cry for this tragedy that should have been stopped.
Just when you think you know how it all came about, how it will end, you will be floored again by who can be trusted … and who can't.
Amazon US
♦
Amazon UK